Hi ladies! Welcome to the crazy whirl wind of wedding planning! I wanted to share with you ladies some wedding details that I already have planned for our big day! I have always loved weddings and been a lilll obsessed with all of the details and planning them, so I thought it would be a fun blog series to keep you all up to date along this wedding planning journey! Hopefully I can give you some helpful tips, ideas, and things to avoid for your big day and don't be afraid to throw your suggestions and advice into the mix as well! 🙂
---
Wedding planner: heeeelp!
First thangs first, I had to decide if I wanted to spend some extra cash to hire a wedding planner in return for being a little less stressed out! Aaaaand it was a really quick and easy decision for me because I'm ballin on a budget! Since I have to organize all of this fun stuff I needed a wedding planner (written version) to help me get everything in order and avoid going insane. There's a few different options I'm rockin' and rollin' with on how to go about staying organized:
Free online planner: I originally went with this option! I just typed in to Google "free wedding planner" and found a surprisingly really helpful check list. I like this checklist because it has a very detailed timeline. Call me weird and everything, but I kind of don't like it because it's not pretty I know that's crazyyyy but I would prefer to have a nice, cute wedding planner.
Purchased planner: I also found a very detailed (& super cute!) wedding planner on etsy. YOU GUYS I don't know if I should buy it or not!! $50ish (when shipping is added) seems like a lot to spend on a planner and I seriously can't make my mind up. Do you guys think it's worth it!? I LOVE the marble cover!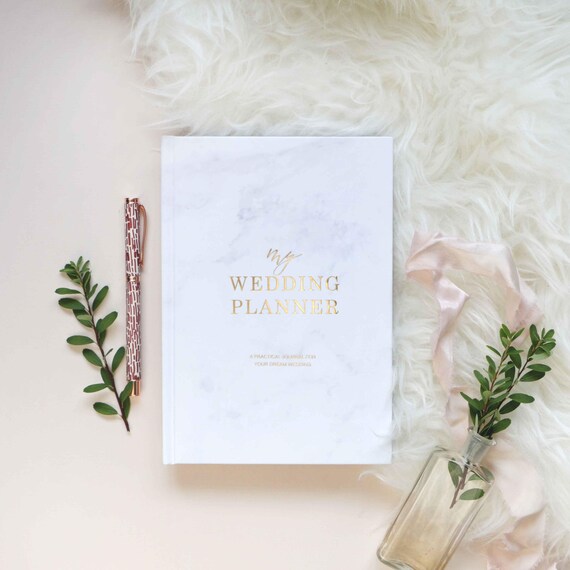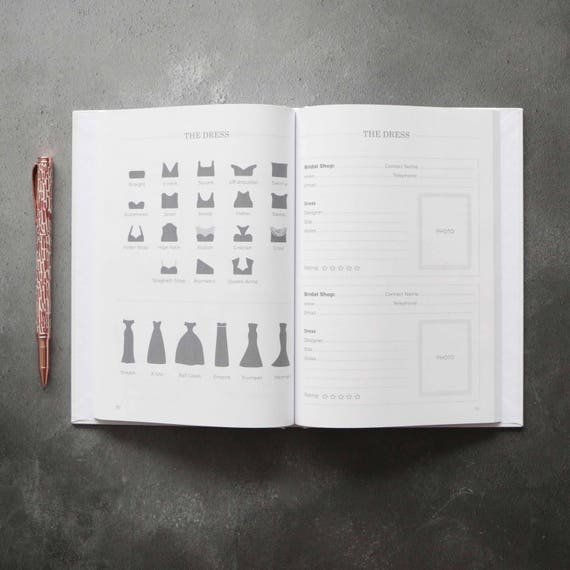 Take a look at it and let me know what you ladies think!! 🙂
click here for wedding planner!
Pinterest: Pinterest has been my go-to to find wedding inspo! I just created a wedding board and started browsing through wedding pins to figure out a theme I loved and little details that went along with it! It's a super simple, helpful way to organize all of your cute ideas for your big day!
---
Theme: Rustic Boho
When I was looking at different wedding themes, I fell in love with all things rustic and boho. Not only does this theme fit perfectly with our venue, but it also brings everything we love into one! Here's a few pictures I'm drawing inspiration from for our big day:
---
Date & Venue
Wedding Date: November 10th, 2017
Venue: Creekside Wedding Barn at Roca Berry Farm
This was the first thing we did after we got engaged! Venues can be booked out so far in advance and be hella stressful to find.. so it's one of the first things we wanted to figure out! We knew we wanted to get married in the fall and we got engaged on November 17th.. so we already had less than a year to plan by the time we were engaged (of course, my life lol.) One of Kc's good friends and groomsmen actually runs Creekside Barn so it was a perfect fit for us! It's the perfect combo of rustic and classy and gives us the relaxed vibe we were looking for! Seriously how pretty is this venue!?
---
Bridal party: 
Select your #bridetribe! I rounded up my group of ladies and asked them to be bridesmaids with a cute gift. I unfortunately didn't take any pics of the gift but it was inspired by the post below I found on Pinterest!
I didn't put the balloon in the box because my smart a$$ bought a box that was too small to fit a blown up balloon in. Oh looord, so I had to grab some twine and tie it to the balloon and then tape it to the box! I just bought white boxes and I used these stamps from Michael's to stamp their names on the outside of the lid!
Then I just filled the inside of the box with an Eileen's cookie, a bath bomb and their favorite shooter! It was a cute, pretty cheap gift! And nobody said 'no' so that's good because that woulda been awkwardddd. So I have 6 bridesmaids!
---
Bachelor / Bachelorette Party:
We don't have much figured out for this yet, but we have a rough idea of what we're doing! We're planning (so far) on having a joint bachelor / bachelorette party in Nashville! We're thinking about going maybeeee in like October-ish. I don't know if we're gonna do a hotel or an Air B&B or what, but we're planning on all staying together and then just branching off and doing our own thing some of the nights! We have some time to plan that bad boy so I'm gonna focus on the things we gotta do ASAP for now! (But how pretty!!!! Ugh I love rustic, country vibes)
---
Color scheme: dark plum, mauve & creme
(I'm also thinking of adding a blush color.. but we'll see!)
I found this gorgeous bouquet on Pinterest and decided these were the perfect colors for our fall wedding! I will probably tweak a couple things and add some different colors, but I loooove this dark plum combination! So pretty!! And ba da bing ba da boom we got our wedding colors and bouquet inspo! (Still need to find a florist hehehe).
---
Photographer: Tori Michelle Photography
Here are some of the pictures she has taken that I'm in love with!
I actually just finalized our photographer yesterday and I'm super excited to work with her! We're planning on doing spring engagement pictures in April and have our save the date's sent out late April / early May! I really wanna take pics in a field or country side when all of the flowers are blooming and everything is turning green again.. I think that would be really pretty! Of course I'm planning on wearing a love & whiskey maxi dress that will be coming soon as a part of our Spring collection!
shop love & whiskey: click here!
Tori's website –> click here!
---
Make-Up / Lashes / Eyebrows: Ofelia Duran at Glow Beauty Boutique
I have been going to Ofelia for my lashes and my eyebrow waxes for liiiike almost two years now! I think she does amazing work and I completely trust her when it comes to all things beauty! So of course I booked her to do my make-up (and my bridesmaid's) for my big day! I'll probably do the trial make-up in April or so because my face is crazy sensitive. I wanted to do the trial a few months in advance of the wedding just in case my face reacts or breaks out from the product! I'm sure it will all be fine, but I just wanna be safe! She will also be doing my lash extensions and eyebrow wax for my wedding 🙂
Ofelia's website –> click here!
Here's some pics of make-up that I'm using for inspiration!!
This eyeshadow combo is super pretty! I'm thinking of doing a more 'natural' (lol) eyeshadow look since I want to do such a bold lip! What do you ladies think?
---
Dress: TBD
I have not found a dress yet, ugh. I went shopping at two different places here in town and found a lot of really pretty dresses, but just didn't find the one!
I found these dresses pictured below at Blush Bridal Boutique! This boutique was super cute and cozy and had a lot of unique dresses! Right when we arrived they had all of the brides names on a chalkboard welcoming them into the boutique which was a really personal touch! When we were browsing through the dresses they gave me a bowl of pink clothes pins so you could literally 'pin' the dress like you do on Pinterest! Such a unique, cute idea!
I thought this mermaid dress was a really flattering dress but it was almost too classy for me. I kind of want something more laid back if that makes sense. Just wasn't the one, but it's a gorgeous dress!
I was actually really surprised how much I liked this dress. I never thought I would like a poofier dress, but I thought this dress was really pretty! I loved the top of it!
Below, was my other favorite dress I found at Elynne Bridal. I love the lace detail, the v-neck, the spaghetti straps and the open back. This was exactly the type of style of dress I wanted as I went into dress shopping, but I didn't get that 'oh my god' feeling when I tried it on. But actually as I continue to look at it I might want to go try it on again? My life is confusing lol.
I think I'm gonna go dress shopping next in either Omaha or Kansas City! My sister actually lives in KC, so it would be fun to make it a full weekend of dress shopping and just hanging out with her! So I'm leaning towards that option!! I'm thinking I'll try this whole dress shopping thing out again in February 🙂 Do you ladies have any dress shops you recommend in either Omaha or Kansas City!? Let me know!!
---
Cake: Naked Cake with Fruit Topping
I'm in LOVE with these naked cakes. Call us weird, but me and Kc actually think the worst part of the cake is when it has tons and tons of frosting on it. I think these naked cakes are super unique, cute, give off the perfect rustic vibe & don't overdue the frosting!! I'm thinking we'll have a bowl of extra frosting next to it for the frosting lovers! We still haven't decided on a flavor yet, but I'm in love with strawberry and lemon cakes so we'll see what we end up with 😉
---
Instagram hashtag: #BLOCKparty and #baddestontheBLOCK
Of course we gotta have an Insta hashtag for the big day. We thought about quite a few different ones. I really wish my name was Jenny so we could say #JennyfromtheBLOCK but it's not 😦 Kc wanted to do #BLOCKinmyrari (laughing emoji face.) But I think we're gonna have two different ones and they're gonna be:
#BLOCKparty and #baddestontheBLOCK
What do you guys think!? Do you have any other fun ideas!? Comment them below! 🙂
---
Guest Book: Polaroid Pictures
I reallyyy want to do this for our guest book you guys!! I'm in love with taking pictures and having that memory to always look back on.. so this would be the perfect idea to remember all of the people who celebrated with us! I'm thinking I wanna do it like the first picture with the book vs. the clothes pins idea in the second pic. It's a super cute idea but I feel like I would put them into a book anyways so it's just taking out an extra step 😉
The only down fall to this idea is how flippin' expensive polaroid film is, and we all know we're gonna have those guests that take like 25 pics. So if you guys know of any places I can buy cheap film or buy it in bulk for a cheaper price.. hook a sista up!
---
Bridesmaids Dresses: Azazie
I'm really considering having my bridesmaids order their dresses from Azazie! I've heard really good things about this website quality and sizing wise, plus all of the dresses are around $120! The really cool thing about this website is my bridesmaid have the option to order 3 different dresses for $10, and they can try them on at home to see which one they like the best!! That's a perfect touch for an online store to offer.
They have sooo many colors to choose from but I'm deciding between the 'cabernet' color and the 'dusk' color. I also really like the 'dusty rose' color but I feel like that may be too spring / summer? I ordered swatches in the colors cabernet, dusk and dusty rose before I completely commit to one to make sure it's the exact color I want! (I'm leaning towards cabernet, but we'll see!) I'm planning on just choosing one color and then letting my bridesmaids decide which style they like the best within that color! They just all have to be long dresses!
Here's some different styles in the color Cabernet: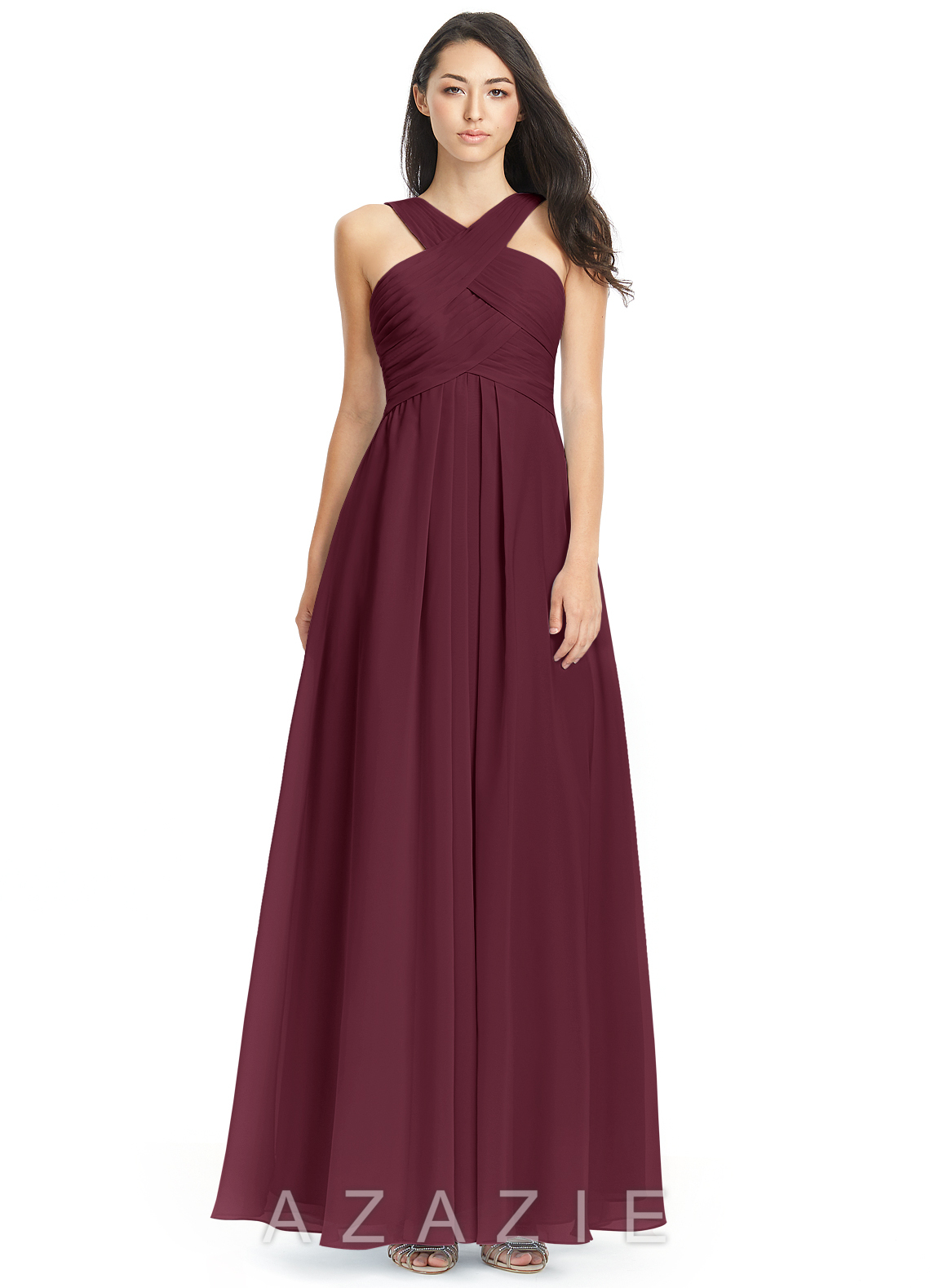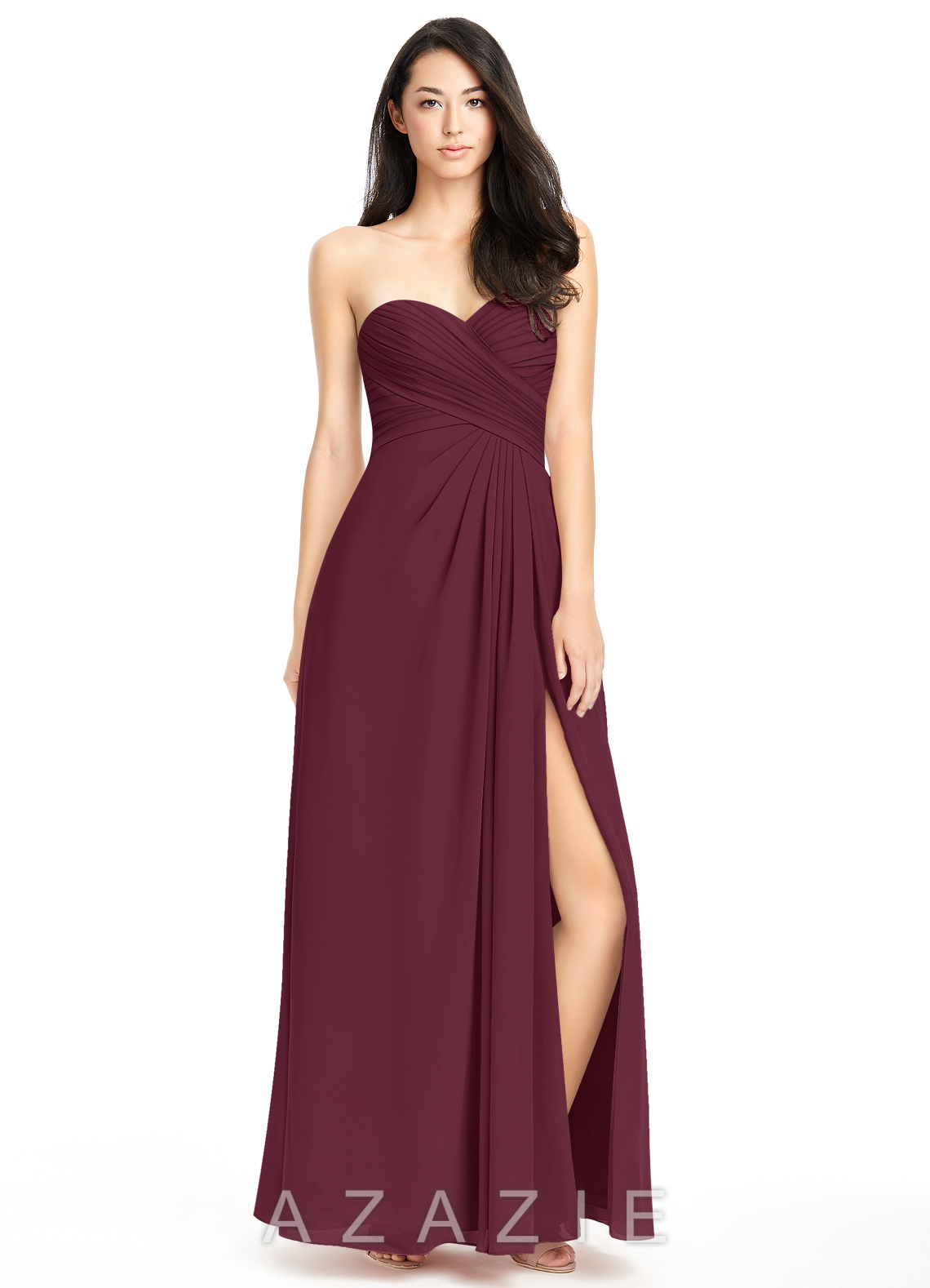 ---
I still have quite a few things to figure out, but it'll all come together! I'm also still debating if I want to hire a videographer. I would love to have our wedding day video taped but hiring for that service is crazy expensive! If you know a decent priced videographer, send em my way!!
I hope you ladies enjoyed this inside look into my wedding planning! If you have any helpful tips, ideas or suggestions.. let me know in the comments below! I would love to hear your thoughts on everything 🙂 I'll probably post part two of wedding planning in the spring and then have a final one in the fall!!
---
Don't forget to follow my blog so you don't miss out on anything!!! You will receive a notification via email every time a new post is made! Just enter your email into the 'Join the Tribe' box either located at the bottom or the right side of the page (depending which tab you're on) and you're good to go :):)
follow me on social media!!
My Personal Instagram: @paigetr_
My Online Boutique Instagram: @_loveandwhiskey
My Online Boutique Website: www.loveandwhiskeyboutique.com
My Fitness Instagram: @thefitnesspaige_
Twitter: @Ptrauernicht14
Pinterest: Paige Trauernicht
---
Sending SO Much Love | xoxoxo
Paige 🙂